Strategy Investment Overview
Introduction
The role of Coinvestor is to bridge the gap between individual investors and professional traders. In simple terms, traders registered on Coinvestor sell their crypto trading experience as a product called "strategy," and general investors can purchase or apply for these strategies, forming the bridge.
Coinvestor is useful for investors who lack trading skills or experience and have limited time.
Coinvestor has both Algo strategy traders and Manual Spot strategy traders.
All traders are validated based on accumulated data from actual trading, and only traders who meet the validation criteria are registered as Coinvestor traders.

What are strategies?
Two Types of Coinvestor Strategy
Coinvestor provides both Manual Spot Strategy and Algorithmic Strategy.
Manual Spot Strategy refers to a trading strategy in which a trader manually trades cryptocurrencies on the spot market.
[SPOT] means exchanging one cryptocurrency for another.
A Trader can trade all the cryptocurrencies listed on the Coinvestor trading terminal, and there are two types of trading markets: the USDT market and the BTC market.

In the USDT market, USDT is used as the base currency for trading cryptocurrencies.
In the BTC market, BTC is used as the base currency for trading cryptocurrencies.
In Coinvestor SPOT Marketplace, there are low-leveraged tokens listed on the platform, which have relatively lower liquidation risks. With these tokens, you can take leverage positions up to 3 to 4 times.
Algorithmic Strategy(Algo-Strategy) is an automated strategy in which each strategy's Algo trader generates and executes trading signals based on predefined rules and conditions.
The advantages of Algo-strategies include thorough backtesting for validation, adaptability to market conditions, and the use of algorithms such as mathematical models, technical analysis, and statistical approaches to make trading decisions.
Coinvestor Trading Terminal
Coinvestor provides its own trading terminal, and traders trade cryptocurrencies on the trading terminal.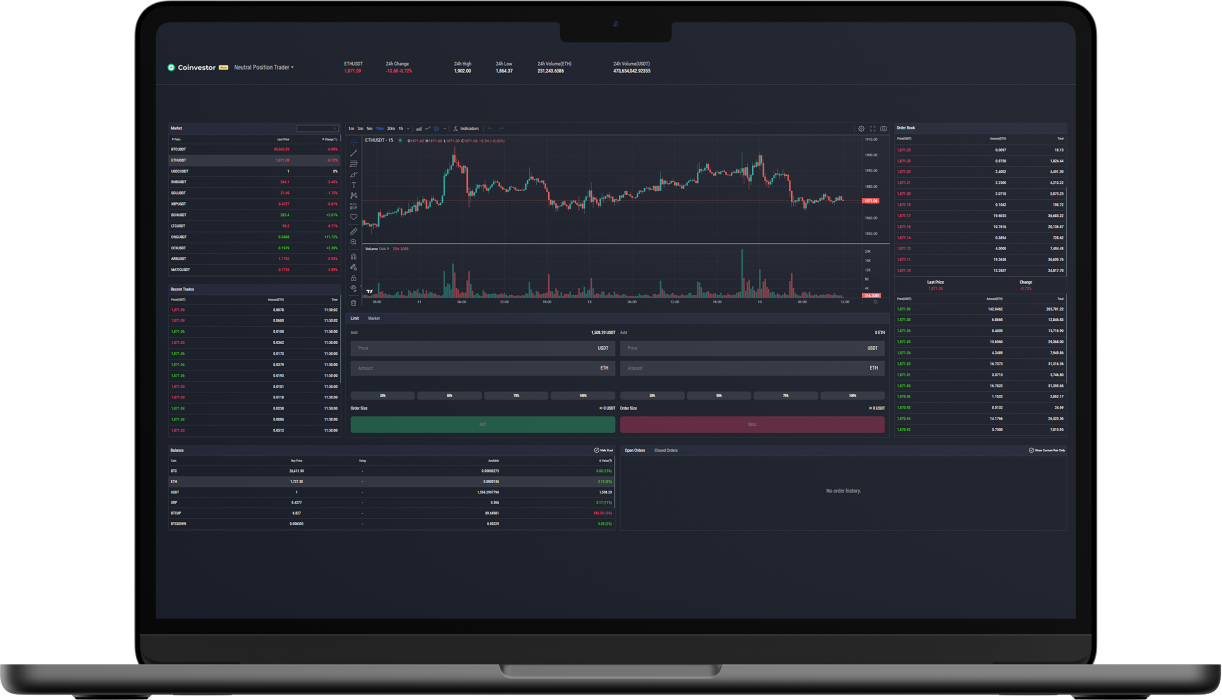 Coinvestor Trading Terminal
Explanation on User Action & Assets Transfer Flow
1. When users deposit assets to Coinvestor, the deposited amount is transferred to each user's allocated wallet.
2. If users buy or subscribe for the SPOT Strategy or Algo-Strategy, the corresponding amount of assets will be moved to the individual wallet associated with each strategy, which is integrated with Binance Linked-To program
3. Traders starts trading by using the assets stored in their managed strategy wallet.
4. The assets managed by the trader are essentially non-withdrawable by default. When the trader places trading orders through the Coinvestor trading terminal and they are successfully executed, the corresponding amount is deducted as the trading amount. Conversely, when a position that was bought is sold, the selling amount is transferred to the wallet of that particular strategy.
5. On the contrary, when the strategy is sold or settlement is completed, the profit or loss is calculated, and the adjusted amount is transferred to the user's wallet.
6. Users can withdraw the assets that have been transferred to their Coinvestor wallet, and when a withdrawal request is approved, the assets will be moved to the wallet specified by the user.
In the next phase, we plan to implement Custody functionality to create a safer investment platform environment.

Coinvestor User Action & Assets Transfer Flow
What is Linked-to Program?
Coinvestor has a partnership with Binance through the 'Linked-To' program. This means that Coinvestor does not have its own wallet, and Coinvestor users receive allocated wallets that are linked to Binance Sub-accounts. Deposited assets are managed within these allocated wallets. Not only individual users' wallets but also the wallets holding assets purchased through strategies are connected to Binance Sub-accounts.